Know the Etymology: 380
Place Name of the Day: Monday, 24 November 2014
Karaiyaakkan-theevu
கரையாக்கன் தீவு
Karaiyākkaṉ-tīvu
Karaiyaakkan+theevuThe water-surrounded place found with Karaiyaakan trees

The water-surrounded place of the spirit called Karaiyaakkan
| | |
| --- | --- |
| Karaiyaakkan 1 | from Karaiyaakku: a tree name found used in Batticaloa. The tree, identified with Vedchi (Ixora coccinea) and Karuveeram, is specifically chosen to make Kompu (made from a forked branch of the tree) used in a folk martial play called Kompu-vi'laiyaaddu in Batticaloa (Eezham Tamil, V.C. Kanthaiya, 1964, p.181); Ka'rai: Acacia catechu sundra, a kind of ebony (Tamil, Winslow, MTL); Ka'luwara: ebony, dark (Sinhala) |
| Karaiyaakkan 2 | a devil, spirit or folk deity that is evoked in the witchcraft of Batticaloa (V.C. Kanthaiya, 1964, p. 345); probably fromKaru+yakkan, Ka'rai+yakkan: the dark Yaksha; also note the folk deity name Valliyakkan (Val+iyakkan, meaning the mighty Yaksha) in the folk religion of the Pa'raiyar community of Jaffna |
| Theevu | island, islet; in the context of this place an open land projecting into the Batticaloa lagoon and surrounded by water seasonally. See following boxes on etymology. Also see column on Koonith-theevu |
| Theevu 1 | island (Tamil, Changkam Diction and modern; Pu'ranaanoo'ru 397: 21-22; Theev: island (Malayalam);Theeyan, Theevan: the caste of palm cultivators, toddy-drawers, sugar-makers, said to be islanders from Ceylon (Malayalam, DED 3277 cites Sanskrit Dveepa); Dveepa: land, island (Sanskrit, Rig Vedic, CDIAL 6691); island, peninsula, sandbank (Sanskrit, Monier Williams); Deepa, Deepaka: island (Pali, CDIAL 6691); Deeva: island (Prakrit, CDIAL 6691); Dveepa/ Dveepaya/ Doopata/ Divaina:island (Sinhala); Doova: island, any small spot of ground or bank surrounded by water (Sinhala); Dhoo/ Dhuvu/ Dhuvaa/ Doo/Dheefu /Theemu: island (Dhivehi / Maldivian, An Etymological Dictionary of Maldivian Island Names); Jeeva: island, as in Pa'nagn-jeeva equivalent to Pazhan-theevu (old Maldivian copper plates) |
| Theevu 2 | The term may also have affinities to the following words of Dravidian etymology, listed by Dravidian Etymological Dictionary, entry No 3229: Thippai: mound, elevated ground (Tamil); Tip: rubbish heap (Kodagu); Tippe: heap, hillock, dunghill (Kannada); Dibba, Dibbu: eminence, hillock (Kannada); Tevaru, Tevari: rising ground, hillock (Kannada); Tippe: heap, pile, hill (Tulu); Tuppe: stack, heap of corn, rice (Tulu); Tippa: hill, hillock, rock, mountain, heap, mound, small island (Telugu); Dibba: hillock, mound, heap (Telugu); Dippa: heap (Parji); Dibba: mound (Parji);Dibbe: hillock (Gadba); Dippa: highland for cultivation, forest, field (Gondi); Deebe: heap (Gondi); Depa: rising ground, high land, lower slopes of a hill, shore, earth platform, veranda, dais (Kui); Debbe: hill (Kuvi); Baali dibba: sandhill (Kuvi); Dippaa: mound, hillock (Kurux);Tube: a heap of filth or sweepings (Malto); also the following entries under DED 3239: Dimmi: elevated spot (Kannada, DED 3239): Neer-demma: island (Parji); also, DED 3221:Thidar, Thidal: rising ground, bank, island (Tamil) |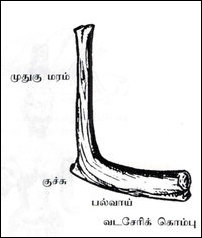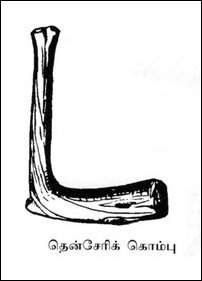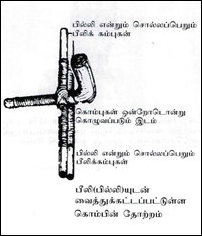 Images of Kompu used in the ritual/martial game called 'Kompu Vi'laiyaaddu' in Batticaloa. They are prepared from forking branches of Karaiyaakku tree. Top: Vadacherik-kompu, Middle: Thenchearik-kompu, Bottom: Kompu prepared for locking. [Image courtesy: V.C. Kanthaiya, 1964]
The word Karaiyaakkan is a form of Karaiyaakku, which is found as a tree name in Batticaloa dialect of Eezham Tamil. The addition of 'An' suffix is a common feature in Eezham Tamil.
Pundit V.C. Kanthaiya in his 1964 book "Maddakka'lapputh Thamizhakam" (p. 181) notes that the Karaiyaakku tree is the one that must be used in making Kompu, which is a play tool made from forked branches of the tree and used in a game called Kompu Vi'laiyaaddu (the Kompu Play).
This is a folk ritual as well as a martial play in which a village divided for this purpose into two patrilineal groups, calling themselves as Chearis, one on the side of the deity Ka'n'naki and the other on the side of her husband Koavalan, go for tug-of-war, locking their respective Kompus tied with ropes. The game will continue until one of them snaps. Kompu literally means branch of a tree as well as horn of an animal.
For the Karaiyaakku tree, the equivalent names Kanthaiya gives are Vedchi and Karuveeram (p.181).
Madras Tamil Lexicon entry for Vedchi gives the botanical term as Ixora cocccinea. This is a shrub, the flowers of which were worn in the military situation of capturing the cattle herds of enemies, during Changkam times (Tholkaappiyam, Poru'l: 59-61).
The attributes of the game Kompu Vi'laiyaaddu or Kompu Mu'riththal in Batticaloa show the synthesis of pastoral culture with the cult of Ka'n'naki.
The tree name Karaiyaakku seems to be provincial to Batticaloa, as it is not found in standard dictionaries or lexicons. Winslow notes the word Ka'rai as the name of Acacia catechu sundra, which is a kind of ebony.
* * *
A devil, spirit or a folk deity is also called Karaiyaakkan in Batticaloa dialect of Eezham Tamil. This is an evil spirit that is evoked in the witchcraft of Batticaloa (V.C. Kanthaiya 345).
The word probably has come from Karu-yakkan, meaning the dark Yaksha.
The term is also comparable to a folk deity name Valliyakkan (Val+iyakkan, meaning the mighty Yakska), worshipped by the Pa'raiyar community in Jaffna.
The tree meaning and the spirit meaning for the word Karaiyaakan are probably interrelated. Also note the synonym Karuveeram for Karaiyaakkan, given by Kanthaiya. Karuveeram (Karu+veeram) means 'dark might'.
* * *
Theevu normally means an island or islet. But, a coastal high ground in a seasonally waterlogged area is also often called a Theevu in the place names of the island. See boxes above and earlier place names for etymology.
* * *
Karaiyaakkan-theevu
is a place in Ma'nmunai West division of Batticaloa district.
* * *
First published: Monday, 24 November 2014, 17:45
source:tamilnet